Cognitive Neurologist Harry Kerasidis, MD debuts XLNTbrain™ at United Nations to distinguished audience, scientists
Concussions Forcing a "Cultural Shift" in Sports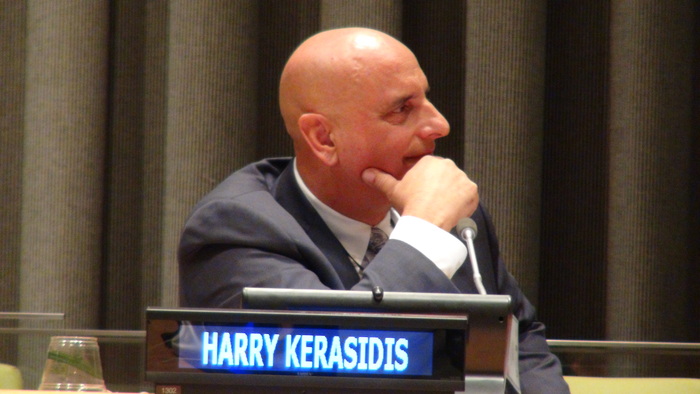 NATIONAL HARBOR, Maryland, (March 4, 2014) -- As the sports world prepared for the Super Bowl, many of the greatest minds in sports concussions and brain trauma gathered to share the latest science, research and new products available to protect athletes from harm, during the #C4CT Concussion Summit. Among the expert panelists was cognitive neurologist Harry Kerasidis, M.D. who introduced XLNTBrain™ , the first complete concussion management program for all sports and levels. This program was reported about on NFL.com that week.
Presenting at New York's United Nations building on January 29, Dr. Kerasidis explained that technological advances, combined with his personal experience studying and treating thousands of concussions, have come together to form a new clinical-caliber tool called XLNTBrain™. Designed for athletic trainers, athletic directors, coaches, league officials and parents, Dr. Kerasidis explained XLNTBrain™ delivers a comprehensive concussion management system, comparative to the NFL's protocol, ideally suited for a wide range of sports leagues, schools and medical applications.
"It was an honor to be in such great company, all of whom are pioneering the new frontier of science -- understanding the brain, resulting impairment caused by concussions, and what is available to prevent brain-related traumas," said Dr. Kerasidis, a contributor to Dr. Oz's sharecare.com, is among an elite few neurologists in the world specializing in the impairment of cognitive and emotional performance resulting from concussions. "Perhaps more importantly, together we're fighting for a cultural shift in sports that puts the brain health and well-being of an athlete above wins and losses."
With Mississippi recently legislating concussion education, now all high schools and colleges in the US must face the cultural change that concussion awareness has brought.
"I think this is a huge step forward, however, the mandated legislation for concussion education could use a bit more accountability in most cases," said Dr. Kerasidis, referring to how the education is delivered and received. "Within XLNTBrain™, we provide an online educational activity followed by a quiz, demonstrating the athlete, coach or athletic trainer has watched, listened and understands the material."
With more than 5,000 athletes currently using XLNTBrain™, the cultural shift is beginning to become more evident both on the national awareness level and local practical level.
"We're seeing a gap between the need for education, and the need for concussion management application at all levels," he said. "Concussion management is not just baseline testing. It must include data management, reporting, and tracking of post concussion signs and symptoms. Knowledge is power, only if it's applied. XLNTbrain™ fills that gap with clinical-caliber guidance, equipping teams at all levels with a tool they can use to evaluate athletes from the beginning to end of the season."
Among the subscription-based product highlights, XLNTBrain™ includes:
Online concussion education that complies with state-wide regulations.
Baseline testing including both emotion and cognitive measurements.
A sideline assessment mobile app that includes balance testing.
The app also includes daily-symptom checklist reporting to monitor recovery.
A 5-Step progressive exertion program with a recovery care guidance.