By Sarah Miller, Staff Writer
With new state laws mandating concussion education and heightened sensitivity to the dangers and pervasiveness of concussions, sports teams at all levels are grappling with proper concussion care to protect the short- and long-term wellness of their athletes. A new program XLNTBrain™ was introduced by Chesapeake Neurology Associates member and XLNTBrain™ founder Harry Kerasidis, M.D., during the #C4CT Concussion Summit at the United Nations in New York, providing the first complete concussion management program without the cost of having a neurologist on payroll.
Student athletes are required to take a baseline test at the beginning of sports seasons. The tests provide a point of reference if an athlete is injured and a way to tell when they are back to normal. State laws mandate doctors have to sign off before an athlete can play after a suspected concussion, Kerasidis said.
After 25 years of treating hundreds of concussions and a career studying the effects of concussions on cognitive brain functions, Kerasidis compiled his learning into XLNT-brain, providing sports teams a clinical-caliber program at an affordable price.
"Concussions don't have to kill contact sports," Kerasidis said in a press release. "Through XLNTBrain™, teams will have all the tools necessary integrated into one convenient platform delivered online and through a newly created mobile app."
XLNTBrain™ has had more than 5,000 athletes and athletic trainers beta-test the protocol in Maryland, including youth football leagues, high schools and St. Mary's College of Maryland during the 2012-2013 school year, but this school year only Huntingtown High School is in the program. Kerasidis said this is due to growing pains during the beta-test year and said he is hoping to have all four high schools signed up again next year.
For more information about XLNTbrain, visit XLNTbrain.com or call 855-333- XLNT (9568).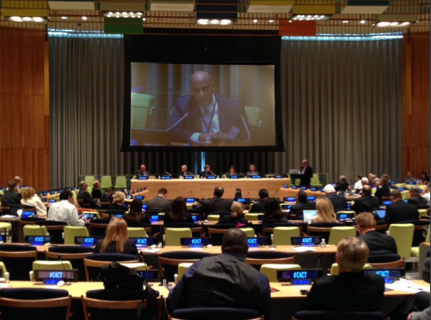 Kerasidis presents at a United Nations Summit on Jan. 29